Future Suffering & Macrostrategy
Risks of Astronomical Future Suffering
Space colonization would likely increase rather than decrease total suffering. Because many people care nonetheless about humanity's spread into the cosmos, we should reduce risks of astronomical future suffering without opposing others' spacefaring dreams. In general, we recommend to focus on making sure that an intergalactic future will be good if it happens rather than making sure there will be such a future.


Download

Read online
Suffering-Focused AI Safety: In Favor of "Fail-Safe" Measures
AI outcomes where something goes wrong may differ enormously in the amounts of suffering they contain. An approach that tries to avert the worst of those outcomes seems especially promising because it is currently more neglected than classical AI safety efforts which shoot for a highly specific, "best-case" outcome.


Download

Read online
How the Simulation Argument Dampens Future Fanaticism
The simulation argument suggests a non-trivial chance that most of the copies of ourselves are instantiated in relatively short-lived ancestor simulations run by superintelligent civilizations. If so, when we act to help others in the short run, our good deeds are duplicated many times over. This reasoning dramatically upshifts the relative importance of short-term helping over focusing on the far future.


Download

Read online
Superintelligence as a Cause or Cure for Risks of Astronomical Suffering
Discussions about the possible consequences of creating superintelligence have included the possibility of existential risk, usually understood as the risk of human extinction. We argue that suffering risks (s-risks) present comparable severity and probability. Just as with existential risks, s-risks can be caused as well as reduced by superintelligent AI.


Download

Read online
Cooperation, Foresight, and Decision Theory
Multiverse-wide Cooperation via Correlated Decision Making
Some decision theorists argue that when playing a prisoner's dilemma-type game against a sufficiently similar opponent, we should cooperate to make it more likely that our opponent also cooperates. This idea, which Hofstadter calls superrationality, has strong implications when combined with the insight from modern physics that we live in a large universe or multiverse of some sort.


Download

Read online
Gains from Trade through Compromise
When agents of differing values compete, they may often find it mutually advantageous to compromise rather than continuing to engage in zero-sum conflicts. Potential ways of encouraging cooperation include promoting democracy, tolerance and (moral) trade. Because a future without compromise could be many times worse than a future with it, advancing compromise seems an important undertaking.


Download

Read online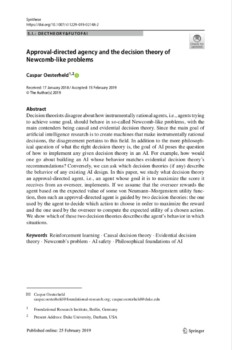 Approval-directed agency and the decision theory of Newcomb-like problems
The quest for artificial intelligence poses questions relating to decision theory: How can we implement any given decision theory in an AI? Which decision theory (if any) describes the behavior of any existing AI design? This paper examines which decision theory (in particular, evidential or causal) is implemented by an approval-directed agent, i.e., an agent whose goal it is to maximize the score it receives from an overseer.


Download

Read online
Robust program equilibrium
One approach to achieving cooperation in the one-shot prisoner's dilemma is Tennenholtz's program equilibrium, in which the players of a game submit programs instead of strategies. These programs are then allowed to read each other's source code to decide which action to take. Unfortunately, existing cooperative equilibria are either fragile or computationally challenging and therefore unlikely to be realized in practice. This paper proposes a new, simple, more efficient program to achieve more robust cooperative program equilibria.


Download

Read online
Formalizing Preference Utilitarianism in Physical World Models
Most ethical work is done at a low level of formality which can lead to misunderstandings in ethical discussions. In this paper, we use Bayesian inference to introduce a formalization of preference utilitarianism in physical world models. Even though our formalization is not immediately applicable, it is a first step in providing ethical inquiry with a formal basis.


Download

Read online
Measuring Happiness and Suffering
Is the balance of happiness versus suffering in the future net positive or net negative (in expectation)? Is the aggregate happiness and suffering in a group of individuals positive or negative? For such questions to have factual answers that are free from value judgements, happiness and suffering would need to be objectively measurable to a very high degree. However, such a degree of measurability is widely (although not universally) rejected.


Download

Read online
What Is the Difference Between Weak Negative and Non-Negative Ethical Views?
Weak negative views in ethics, such as negative-leaning utilitarianism, are said to give more weight to reducing suffering than to promoting happiness. In contrast, non-negative views such as traditional utilitarianism are said to give equal weight to happiness and suffering. However, this way of distinguishing between the views rests on controversial assumptions about the measurability of happiness and suffering.


Download

Read online
The Importance of Wild-Animal Suffering
The number of wild animals vastly exceeds that of animals on factory farms. Therefore, animal advocates should consider focusing their efforts to raise concern about the suffering that occurs in nature. In theory, engineering more humane ecological systems might be valuable. In practice, however, it seems more effective to promote the meme of caring about wild animals to other activists, academics and other sympathetic groups.

Read online
CLR's practical priorities are largely independent from our views on consciousness, and the writings in this section do not necessarily reflect a CLR consensus.
Do Artificial Reinforcement-Learning Agents Matter Morally?
Artificial reinforcement learning (RL), a widely used training method in computer science, has striking parallels to reward and punishment learning in biological brains. Plausible theories of consciousness imply a non-zero probability that RL agents qualify as sentient and deserve our moral consideration, especially as AI research advances and RL agents become more sophisticated.


Download

Read online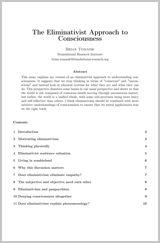 The Eliminativist Approach to Consciousness
This essay explains my version of an eliminativist approach to understanding consciousness. It suggests that we stop thinking in terms of "conscious" and "unconscious" and instead look at physical systems for what they are and what they can do. This perspective dissolves some biases in our usual perspective and shows us that the world is not composed of conscious minds moving through unconscious matter, but rather, the world is a unified whole, with some sub-processes being more fancy and self-reflective than others. I think eliminativism should be combined with more intuitive understandings of consciousness to ensure that its moral applications stay on the right track. Introduction "[Qualia] have seemed to be very significant properties to some theorists because they have […]


Download

Read online
This piece presents a hypothetical dialogue that explains why instrumental computational processes of a future superintelligence might evoke moral concern. Generally, agent-like components might emerge in many places, including the computing processes of a future civilization. Whether and how much these subroutines matter are questions for future generations to figure out, but it's good to keep an open mind to the possibility that our intuitions about what suffering is may change dramatically.
Read more
If we don't understand why we're conscious, how come we're so sure that extremely simple minds are not? I propose to think of consciousness as intrinsic to computation, although different types of computation may have very different types of consciousness – some so alien that we can't imagine them. Since all physical processes are computations, this view amounts to a kind of panpsychism. How we conceptualize consciousness is always a sort of spiritual poetry, but I think this perspective better accounts for why we ourselves are conscious despite not being different in a discontinuous way from the rest of the universe. Introduction "don't hold strong opinions about things you don't understand" --Derek Hess Susan Blackmore believes the way we typically […]
Read more